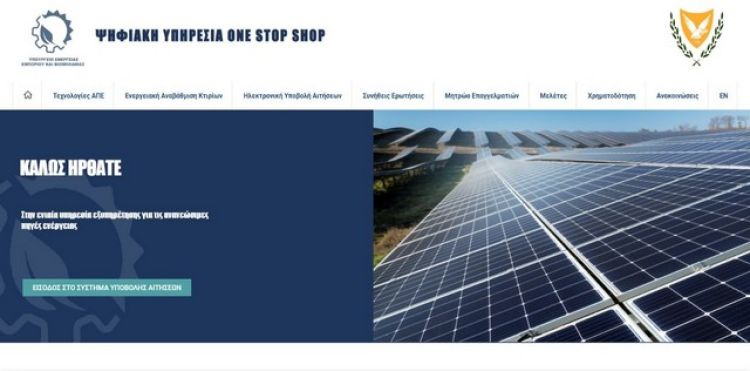 The Ministry of Energy, Trade and Industry, in the context of the implementation of the President's pre-election announcement for the redesign, optimisation and digitalisation of the licensing procedures for Renewable Energy Sources (RES) projects, announces the operation of the online digital platform "Digital One Stop Shop", which is an action of the Recovery and Resilience Plan "Cyprus – Tomorrow" and concerns, in the first phase, the digital submission of applications for the licensing of energy production projects from RES. The second phase, which is expected to be completed before the end of 2024, will enable the full digitalisation of procedures and electronic approvals of applications.
The aim of the new platform, https://bfu.meci.gov.cy, is to facilitate both the information and service of investors and the licensing of projects.
The Ministry of Energy, Trade and Industry announced, at the end of May, as a first measure to implement the above commitments, the operation of the "Single Service" for the licensing of RES projects, which is part of the Ministry's Business Facilitation Unit (BFU). As the single point of contact for the investor throughout the entire licensing process, the responsibilities of the PSC include, inter alia, providing information, coordination, guidance and facilitation of the entire administrative process for the licensing of RES projects.
The ongoing technical assistance from the European Commission for the simplification of the licensing procedures for RES projects is expected to contribute to the Government's effort for a rapid transition to the green economy. The stage of mapping/mapping of existing procedures and legislation between the various competent authorities has already been completed, while the first report is expected soon, which will consist of a series of recommendations for simplifying the licensing procedures.
All of the above actions will help to facilitate investors by reducing bureaucracy and licensing time for RES projects, as well as to achieve the new, more ambitious targets set in the National Energy and Climate Plan under review.
Applicants who have already secured the use of the parcel are invited to submit all necessary supporting documents online at https://res.bfu.meci.gov.cy/login for both new and pending applications.
For more information, interested parties can contact the relevant Officer:
Christos Gogakis (MPE – Licensing of RES Projects).
Andreas Arauzou 10, Nicosia, 1421 Nicosia, 1421.
Email.: cgogakis@meci.gov.cy / bfuRES@meci.gov.cy
Phone No.: +357 22867203